As a multiplatform company, we're progressing an innovative biologics portfolio with 3 candidates currently advancing through preclinical studies.
Thyroid, Head and
Neck, NSCLC
Antibody-Drug Conjugates (ADCs)
SCLC,
Soft Tissue Sarcoma
Internal Discovery
& Joint Ventures
Antibody-Drug Conjugates (ADCs)
In developing our ADCs, we identified promising tumor targets and acquired highly specific antibodies to these tumor targets. Our technology platform, Flexible Antibody Conjugation Technology (FACT), is designed to enable us to develop highly controlled ADCs. Our ADCs are designed to employ site-specific conjugation of potent cytotoxic payloads to highly selective antibodies for a precise drug-antibody ratio, or DAR, with an enhanced therapeutic index.
PYX-201
A promising ADC for the treatment of solid tumors
PYX-201 targets a tumor-restricted antigen that several tumor types overexpress. By using a well-characterized linker and potent toxin, PYX-201 selectively kills tumor cells and enhances a robust anticancer immune response.
PYX-201 is an investigational human IgG1 isotype site-specifically conjugated with an auristatin toxin targeting oncofetal fibronectin extradomain-B (EDB) that we plan to initially develop for the treatment of non-small cell lung cancer. Fibronectin is a glycoprotein found in the extracellular matrix. EDB regulates blood vessel morphogenesis, which provides the tumor access to nutrition and oxygen, a means to remove waste, and a pathway for metastasizing cells. EDB is overexpressed in many malignancies and is minimally expressed in most normal adult tissues. In addition to achieving tumor regression with single-agent PYX-201 in patient derived xenograft, treatment of syngeneic tumor models with PYX-201 resulted in immunogenic cell death enhanced infiltration of T-cells into the tumor microenvironment, enabling synergistic activity in combination with a checkpoint inhibitor.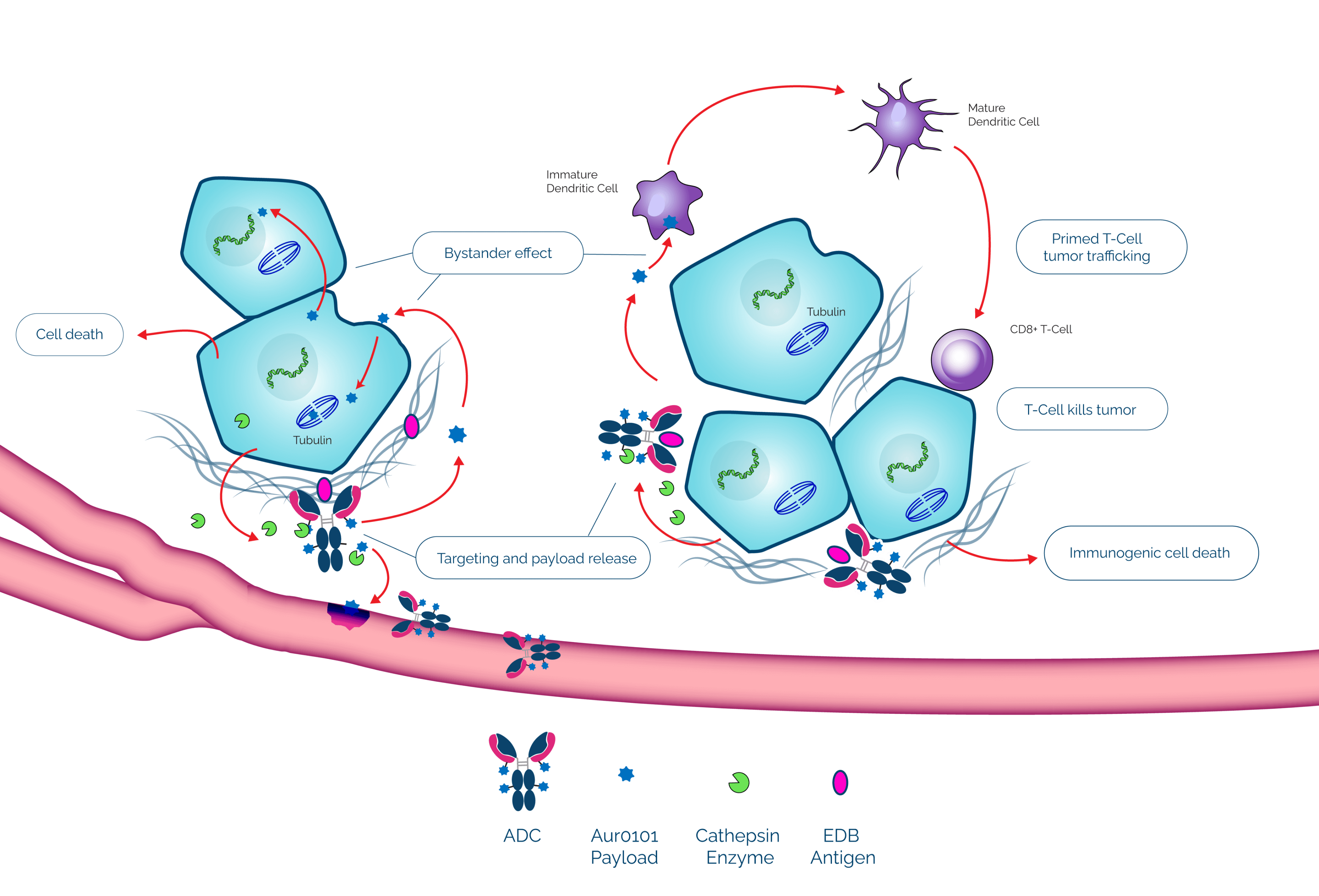 PYX-202
An attractive ADC for the treatment of solid tumors
PYX-202 is an investigational, novel ADC consisting of an IgG1 anti-Delta-like 1 homolog, monoclonal antibody (mAb) conjugated to MMAE via a site-specific plasma- stable β-glucuronide linker. DLK1 is a transmembrane protein normally expressed in embryonic tissues but highly restricted in healthy adult tissues. DLK1 becomes re-expressed in certain solid tumor malignancies. PYX-202 is designed to use the microtubule-disrupting MMAE payload, which is utilized in three currently marketed ADCs providing a validated anti-tumor effect. We have observed durable tumor regression in small cell lung cancer in patient derived xenograft models. We have also observed significant efficacy in human tumor cell line-based (CDX) mouse models.
PYX-202 has significant potential as a monotherapy in tumors expressing high levels of DLK-1, including small cell lung cancer, and as a combination therapy with immunotherapies.
PYX-203
A superior ADC for the treatment of hematologic cancers
PYX-203 is an investigational ADC consisting of an anti-CD123 IgG1 mAb conjugated to a novel and highly potent DNA cross-linking payload, cyclopropylpyrroloindoline (CPI), via a site-specific plasma-stable, cleavable linker. CD123 (IL-3Ra) is a cell surface antigen highly expressed on leukemic stem cells and leukemic blasts in AML. PYX-203 has shown robust anti-tumor activity in several disseminated AML models.
A larger patient population may benefit from PYX-203, including patients who otherwise would not respond to the standard of care.
We are building a proprietary catalog of new targets as the foundation for the next generation of Pyxis Oncology ADCs and immuno-therapies. Building on the work by Pyxis Oncology's founding scientist Dr. Tom Gajewski and applying innovative bioinformatics and translational tools, we are identifying tumor specific targets, including cell surface and stromal antigens. Further, our approach has the potential to uncover additional mechanisms relevant for immune modulation in the tumor microenvironment.